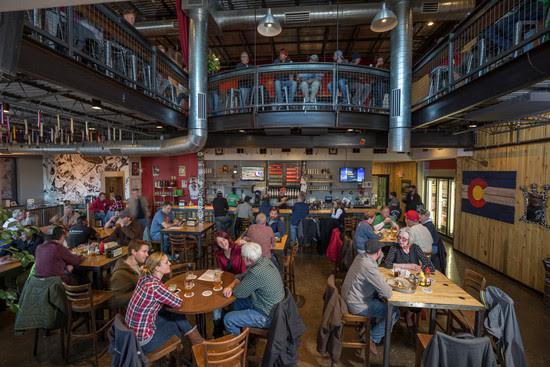 DURANGO, Colo. (Dec. 14, 2017) – Ska Brewing will launch a targeted philanthropic initiative in 2018 through its new Token Tuesdays program. For each draft beer sold at Ska Brewing on Tuesdays throughout 2018, customers will receive a token to drop into a local charity donation jar. Ska will donate $1 of each beer sold that day to the honorary organizations every Tuesday throughout the month. The beneficiaries will rotate monthly so that even more charitable and non-profit organizations in Durango will benefit from Ska's extensive community-driven efforts.
A total of 24 local organizations (2 per month) will benefit from Token Tuesdays at Ska. Ska will specifically be considering non-profits from the local Durango community and close surrounding areas. The application process for 2018 is open throughout 2018. Ska will announce its calendar of beneficiaries each month on its social media channels.
"'Community Reigns Supreme' is one of our core values at Ska," said Kristen Muraro, marketing director at Ska. "In the new year, we will continue bringing it back to our roots. The new Token Tuesdays effort is our way of focusing our charitable efforts in a way that benefit a wider range of organizations in our local community."
Part of the application criteria will require that the beneficiaries drive traffic to the tasting room on Token Tuesday.
Non-profit organizations wanting to apply to be a recipient of Token Tuesdays can contact Kira Quirk at kira@skabrewing.com.
The first Token Tuesday will fall on Jan. 2, 2018 at the Ska World HQ tasting room at 225 Girard Street in Durango, Colorado.
About Ska Brewing
Based in Durango, Colorado, Ska Brewing was founded in 1995 and produces over a dozen award-winning beers.  Pioneers in the canned craft beer movement, Ska Brewing is known for an array of styles in 12 oz cans including Modus Hoperandi, Mexican Logger, Euphoria and Pinstripe.  For information (a lot of it), music, and a good time, visit www.skabrewing.com. Plug in to the latest updates, beer releases and shenanigans at facebook.com/skabrewing and twitter.com/skabrewing.