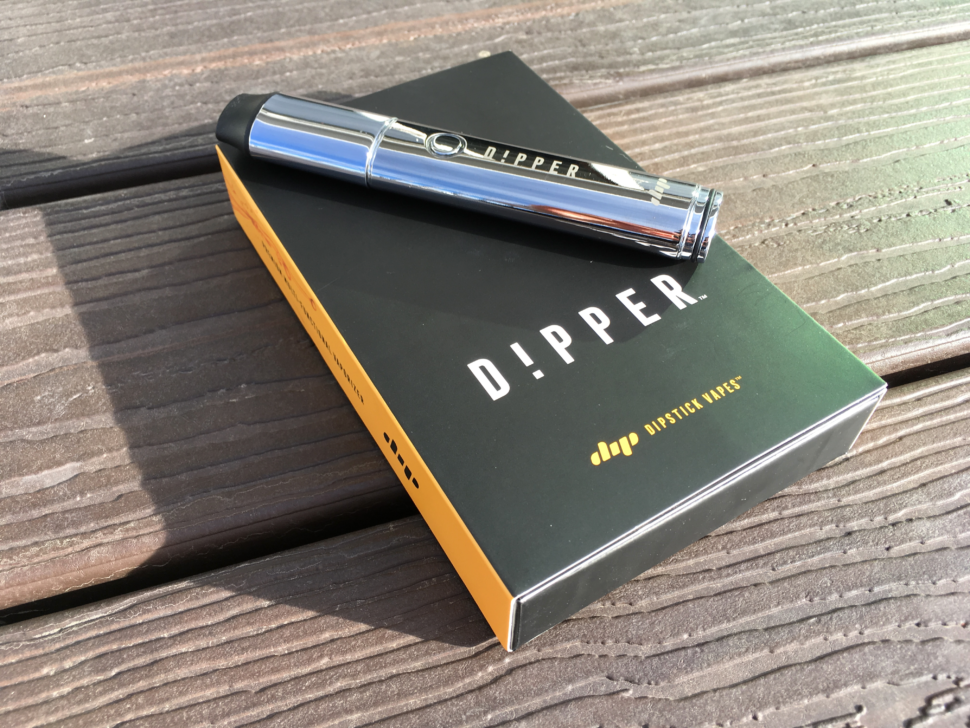 If you're like me and enjoy the clean, tasty vapor that only a nail hit can provide but just hate the mess and inconvenience, then the Dipper Vaporizer by Dipstick should be high on the holiday shopping list for you or some other loved one in your life.
The Dipper features a Ceramic Tip Atomizer with an exposed element that makes it easy to take a hit off of the provided loading tool or even directly out of your concentrate's container. This makes for consistently clean hits without dealing with sticky residue collecting near the heating element. The tip heats up almost instantly and right out-of-the-box, I was getting incredible clouds of vapor from the Dipper.
Still want to vape your wax or shatter on the go? Not a problem, just change the tip to the Quartz Crystal Atomizer, load your extract and flip the mouthpiece. It's not quite as small nor discreet as a cartridge pen, but it's small and sleek enough to fit comfortably in your pant pocket and honestly, the luxury of having a pure concentrate hit is worth a bit of extra bulk.
It's a breeze to use too! It offers three temperature controls for precision heating in even the coldest climates and cleans up easily with the provided cleaning swab (or anything like it). Don't worry about some one-off charger, the Dipper uses a micro USB just like an Android phone so you'll never be without the juice to get your buzz.
BOTTOM LINE
It's a bit of an investment but the ease of use and thoughtful design make this a device I would highly recommend to those looking for the best experience possible in a portable device.
FEATURES
Instant-heat coil
Innovative, replaceable Vapor Tip Atomizer
Replaceable Quartz Crystal Atomizer
1-Year No Hassle Warranty
Compact Design
Durable
Dual-purpose mouthpiece/cap
Micro-USB rechargeable battery
Photo by Michael Poplin