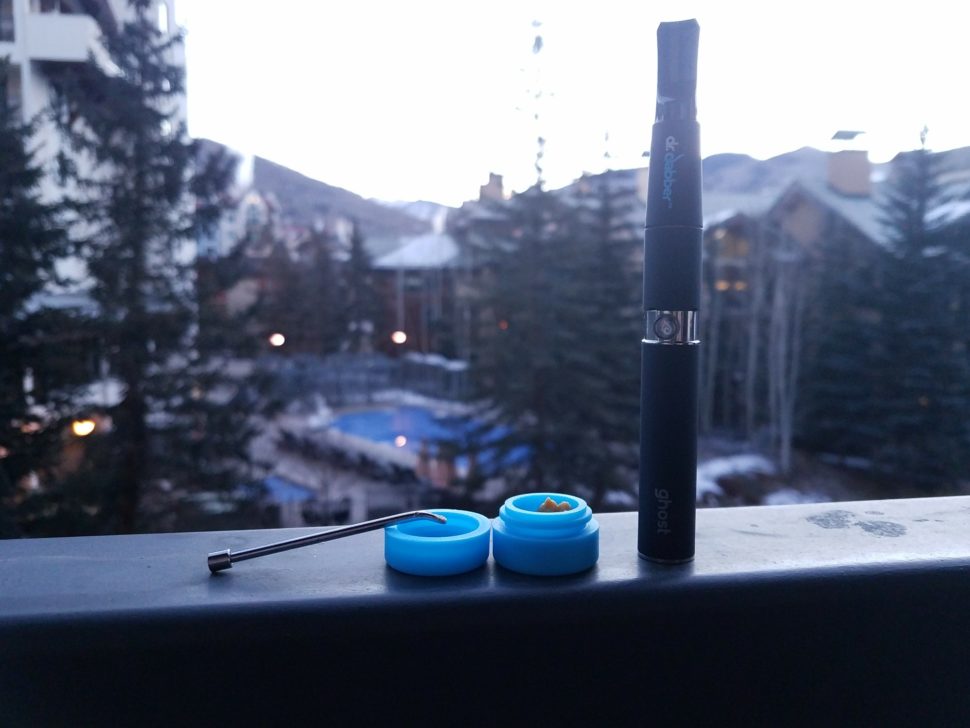 This past weekend, I took a trip to Vail to meet up with my girlfriend and her mother from out of state. I was absolutely excited, but faced with the classic – how do I discreetly stay stoned on vacation? Well, I packed up the Ghost and headed on up to Eagle County to try my luck!
I've used a lot of hash pens in my time, attempting to be as discreet as possible, but did the trick. Whether it be the hot, reeking vape coil in my pocket after sneaking back into my office, or the billow of smoke I was not anticipating after a rip.
The Ghost is the opposite. It stays cool, and it stays tasty without raising a stink. The coil is a nice ceramic wick, wrapped with a titanium heating coil. The wick ends up absorbing the melted hash at a low temperature, and creating massive flavor in a small package on every puff. One load will last me a good 10-15 puffs. And each puff tastes like that first fresh hit. The battery life is phenomenal at around 200-250 puffs for me. My favorite part to the Ghost Kit is the small coil dish. I'm guilty of cramming as much hash as I can, creating a pool of hot liquid in most my pens. The Ghost just refuses to allow this to happen. The Ghost also doesn't light up extremely bright when hitting it, making it the best for not being obvious in that concert crowd or wherever you are in the dark. If you are looking for a good, discrete hash pen, you cannot go wrong with the Dr. Dabber Ghost! It kept me stony without anyone ever noticing a thing!
BOTTOM LINE
The Dr. Dabber Ghost is the weapon of choice for any cannabis enthusiast who wants to be discrete, and get premium flavor from their concentrates.
FEATURES
10 second shutoff
Titanium Coils
Runs at Lower Temperatures
For Concentrates
Instant heating
Long lasting battery life
WHAT'S IN THE BOX
Dr. Dabber Ghost Vaporizer
Stainless Steel Tool
Extra Atomizer
USB Charger
Shatterproof Container
User Manual