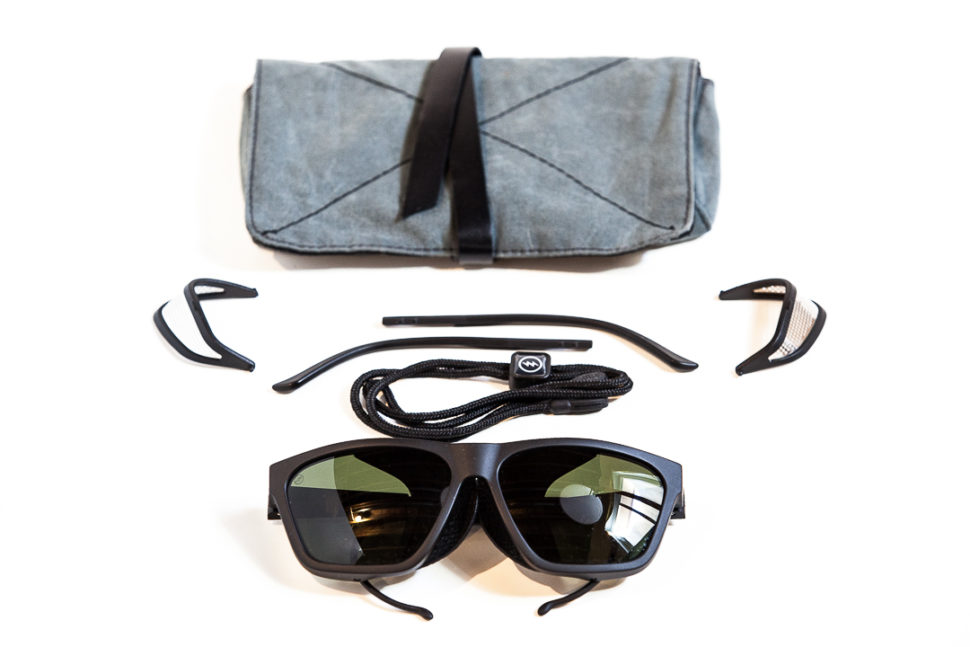 Electric makes some of the most stylish glasses on the market, and they've been stepping up their game on the performance end of the spectrum lately as well. The Road Glacier is their latest versatile, stylish eyewear, designed in collaboration with surf shaper Chris Christenson for surfers, moto riders, and anyone looking for full eye protection from the elements. Fashioned after classic glacier glasses, the Road Glacier features removable shields in stamped metal or leather, adjustable temples that can be switched from standard to hook-style, and Electric's high quality OHM or OHM polarized lenses.
These have been my everyday, everything glasses the last couple months. I wear them to work, commuting, mountain bike riding, and running. With the regular temples (and no rubberized nose or temple), these glasses stay in place during running and riding, and I like the style for everyday use. I rarely use the shields, but they have come in handy during outings while it's snowing. I normally wear "small/medium" glasses, and the Road Glacier shape and size fit me well.
The Road Glaicer Kit includes interchangeable leather eye shields, interchangeable and adjustable hook style temples, slip fit sunglass leash, custom roll case with cleaning cloth.
BOTTOM LINE
The Road Glacier a great option for anyone looking for sunglasses that provide protection in the elements without sacrificing timeless style.